FOOTBALL
This is the first of an eight part series where I will preview LSU's team for the 2010 season.  Rather than do the standard position by position breakdown, which you can find anywhere (and what I did prior to spring), I will instead ask and answer a series of questions.  I will answer one question from offense and one from defense in each part.
1.  Will LSU's offensive line be improved?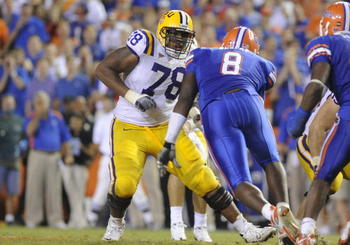 The easy answer is Yes.  Frankly, LSU's offensive line cannot perform any worse than it did in 2009.  Opposing defensive lineman had little trouble going around and through LSU's line to either get to the quarterback or shut down the running game.  As a result, LSU's offense struggled to get anything going.   LSU was last in the league in sacks allowed and was 11th in rushing offense.
Experience matters a lot for offensive linemen in the SEC.  Generally, the more experienced lines perform the best.  So with LSU having to replace three starters from last year, one would think that LSU could be in for another long year in the trenches.  However, I believe LSU is making significant upgrades at each of those three positions and that the line will be much improved.
Departed senior left tackle Ciron Black had a decorated career in Baton Rouge, but he struggled with injuries in 2009 and was often a liability.  He especially had trouble with quicker defensive ends.  Center T-Bob Hebert struggled most of the season to hold his ground both in the running game and when trying to protect the quarterback.  Right guard Lyle Hitt had similar struggles.
Sliding over to replace Black at left tackle is senior Joseph Barksdale (pictured), who has started at right tackle for two seasons.  While Barksdale may not be an All-American, he is solid and consistent.  He is considered one of the better tackles in the league.  Sophomore Alex Hurst takes over at right tackle.  Hurst has great size at 6'6″ 320 pounds and showed some real good things in limited time last year and during spring practice.
Sophomore P.J. Lonergan has beaten out T-Bob Hebert for the starting center position.  Lonergan checks in at 6'4″ 300 pounds and adds some much needed beef to the interior of LSU's line.  He plays with a mean streak and can bring some attitude to the center position.  Replacing Hitt is junior Will Blackwell, a converted defensive lineman.  Blackwell also checks in at over 300 pounds and looks like he will be an outstanding player.  Junior Josh Dworacyzk returns at left guard.  Dworacyzk was solid a year ago but looks to take the next step this year.
While the players look to be improved, will the coaching staff utilize them in a way that maximizes their ability?  A year ago, LSU had small, athletic interior linemen.  It was logical that these players would be most effective when using their athleticism to roll a pocket or to pull and get in front of running plays to the edge.  Instead, LSU consistently tried to force the power running game between the tackles.  Expectedly, the guys could not get it done.  Will the staff design the offense around the strengths of these linemen?
The good news is that the 2010 line seems pretty versatile.  They will be much more effective in a power running game, but they also have the ability to move their feet and block in space.
I think it's a foregone conclusion that the offensive line will be improved.  The real question is whether they will improve enough for LSU to compete for a championship.
2.  Can LSU actually generate a pass rush?
LSU's defense was solid overall in 2009, but they struggled to pressure the quarterback.  The Tigers recorded just 21 sacks on the season, good for eighth in the SEC.  Most frustrating was that in obvious 3rd and long passing situations, LSU could still not get anything going.  Opposing offenses converted a maddening number of 3rd and long situations into first downs.  The Tigers ranked eighth in the SEC in allowing 3rd down conversions.
Most pass rush starts with the defensive line, and LSU's line was not built for getting to the quarterback in 2009.  Starting inside, LSU's starters were a pair of bigger run stuffing tackles in Al Woods and Charles Alexander.  Both guys did adequate jobs against the run, but neither was able to pressure the quarterback consistently.  Between the two, they had just two sacks and one quarterback hurry.
Defensive ends typically apply the most pressure to quarterbacks, but LSU's ends were ineffective a year ago.  Senior Rahim Alem had some quickness, but he was very undisciplined and played out of control.  It's a mystery why he even stayed on the field.  He did manage 4.5 sacks but was a handicap to LSU's defensive effort.  The other defensive end was Pep Levingston, who is naturally a defensive tackle.  Levingston was solid against the run, but he did not register a single sack on the season.
The 2010 version of the defensive line is going to look a lot different.
Starting inside, senior Drake Nevis will start and be the leader on the line.  As a reserve last year, Nevis had four sacks and a team-leading eleven tackles for loss.  Nevis is very quick off the ball and has a knack for disrupting plays and affecting the quarterback.  Starting alongside Nevis will likely be the aforementioned Levingston, who moves back to his natural position on the inside.  Like Nevis, Levingston's strength is his quickness and ability to get around offensive lineman rather than push through them.  He'll fare much better on the inside of the trenches than he did on the outside trying to get around offensive tackles.  One of the top reserves, sophomore Josh Downs has a similar skillset to Nevis in that he is a smaller, quicker tackle.  Redshirt freshman Michael Brockers is also in the mix.  Brockers has played defensive end his whole life and knows all about getting to the quarterback.
At defensive end, LSU can put a number of pass rushers on the field.  Even though they're all unproven, Tiger fans have very high hopes for this new group.
We'll start with the star of spring practice, redshirt freshman Sam Montgomery.  Montgomery has always shown insane athletic ability, but he was a bit undersized to crack the lineup in 2009.  He is now up to the 250 pound range and is probably ready to be an every down defensive end.  He was an absolute menace this spring.  On the other side, look for junior college transfer Ken Adams.  Adams is built like Montgomery at 6'5″ 255 pounds.
LSU's best weapon may be redshirt freshman Barkevious Mingo, who was unblockable in the spring game.  Mingo is a converted linebacker who is still quite undersized in the 230 pound range, but not many offensive tackles will be able to keep up with his speed off the edge.  His frame and skill set will remind many of former Florida Gator Jarvis Moss.  Look for him to be used in passing situations this season with one goal:  get the quarterback.
The Tigers have a pair of sophomores, Lavar Edwards (pictured) and Chancey Aghayere, with some playing experience.  Both guys were solid in a limited role last year and Edwards is competing for a starting job.  While not the smaller speedy type of defensive end, the 6'4″ 265 pound Edwards has shown the ability to apply some pressure.  He had two and a half sacks in 2009.
Can LSU blitz to get pressure?  A year ago, linebackers only accounted for three sacks, but John Chavis does like to bring pressure from several different areas.  New weakside linebacker Ryan Baker is a good blitzer and could be effective when given the opportunity.
All in all, LSU's defensive line looks entirely different than it did a year ago.  While last year's group was built to stop the run, this year's version looks like it will be able to get after the quarterback.  LSU should increase its ability to disrupt the quarterback's timing and should add to their sack totals from 2009.

RECRUITING
In case you missed it, LSU added their 14th commitment of the Class of 2011 when Mississippi cornerback Jalen Collins committed on Tuesday.  I said that we would likely see one guy come from nowhere to earn an offer at LSU's camp, and Collins is that guy.  LSU offered him at camp, and it did not take long for Collins to jump on the offer.  LSU is the only offer that Collins has received thus far, despite camping at Mississippi State and Memphis prior to his trip to LSU.  After leaving LSU, Collins competed at a 7 on 7 tournament and drew some nice comments from some scouts in attendance.  So LSU's coaches are not the only ones who see good things in him.  At 6'2″ 175 pounds, Collins has a very long frame that is ideal to play corner.  He does not have any film available right now.
Despite what I said in my last update, the eventual choice of Tampa, FL quarterback Phillip Ely is now very uncertain.  Numerous LSU sites are now reporting that they believe Ely will go elsewhere.  However, sources in Florida still believe he will choose LSU.  Right now, who knows?  But any confidence I had about him is now gone.  We'll just have to see what happens.  He is supposed to announce his decision on or around August 10th.
Texas cornerback David Jenkins is still expected to announce his college decision any time now and that choice is expected to be LSU.  However, he has been very quiet since visiting LSU at camp early last week.
AROUND THE SEC
It looks like a done deal that former Oregon quarterback Jeremiah Masoli will be the quarterback at Ole Miss this season.  I'll have more on my thoughts about this decision by Ole Miss in a future update.
SOUTHERN PIGSKIN
Want to keep your Friday morning reading going?  I've got another piece up on Southern Pigskin where Justin Davis and I rank the top cornerbacks in the SEC West.  There's no argument as to who the top guy is.