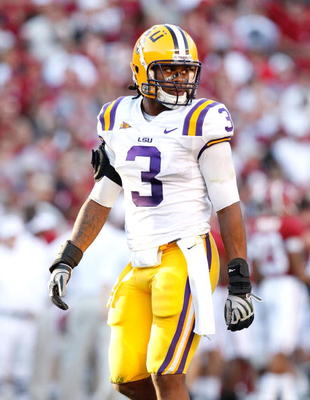 It has been nearly five years since the Clas of 2007 signed their letters of intent to play at LSU. With all eligibility nearly exhausted, I thought we'd take a look back at the signing class and give out some final grades. This was a pretty popular feature last year when I did the same thing for the Class of 2006.
On paper, the Class of 2007 was a good one. Rivals.com ranked the class #4 in the nation while Scout had it ranked #5. Did that translate on the field? This group made up the core of players that struggled during the 2008 and 2009 seasons. But as veterans, many in this group led the way to LSU's 24 wins over the last two seasons…with a 25th possibly on the way in a couple of weeks.
QB
Jarrett Lee – We all know Lee's story. He was forced into action as a redshirt freshman, well before he was ready, due to the dismissal of Ryan Perriloux. Lee struggled and ultimately lost the job to Jordan Jefferson. As a junior, Lee was called upon in some big games and played very well — especially in wins against Tennessee and Florida. Again forced into action as a senior, Lee led the team to a perfect record through eight starts before giving way to Jefferson once again. Lee's career suffered from some early shell shock and from some poor coaching at the quarterback position for most of his career. As a senior under Steve Kragthorpe's tutelage, we saw a glimpse of what Lee could do. LSU fans will probably always wonder how good he could have been had he had that level of coaching all along.
Missed On – Nobody really. The state of Louisiana did not have any quarterbacks of note, and LSU secured a commitment from Lee fairly early in the recruiting process.
Nationally – Other big names nationally in 2007 at the QB position included Jimmy Clausen, Cam Newton, Tyrod Taylor, Ryan Mallett, Jeff Brantley, and Stephen Garcia. Some notable flops include Aaron Corp (USC), Kodi Burns (Auburn) and Willy Korn (Clemson). Some low ranked guys that turned out well are Kellen Moore and Nick Foles.
RB
After signing three good backs the year prior, LSU did not have the need at the running back position. The Tigers took one guy, who most thought would end up as a fullback. He proved everyone wrong.
Stevan Ridley – Ridley was initially a commitment to Ole Miss but changed instantly once LSU offered. Most had Ridley pegged as a fullback, or even a linebacker, out of high school. And even though Ridley played a little fullback at LSU, his performance on the practice field dictated that he remain at tailback. After a redshirt year, fans saw a glimpse of what Ridley could do in mop up time in 2008. Ridley ran very hard and with authority. In 2009, it was much of the same until late in the season when he played a major role due to injuries to Charles Scott, Keiland Williams, and Richard Murphy. That playing time served Ridley well heading into 2010 where he won the job and went to rush for 1,147 yards and 15 TDs in an All-SEC season. Ridley parlayed that success into a 3rd round draft pick by the New England Patriots, where he is currently enjoying a successful rookie campaign. Ridley's 2010 season is up there with Jacob Hester (2007) and Charles Scott (2008) as one of the best seasons by a LSU runner in recent Tiger history. It's maybe the most impressive since LSU had very little passing game to speak of. Teams knew LSU was running the football, but Ridley still had success.
Missed On – Joe McKnight. Yea, McKnight is a punk. And LSU didn't really miss him that much on the field. But he was the state's top player and LSU wanted him very badly. McKnight didn't quite live up to his 5-star billing, but he was a good college player.
Nationally – This was not a great year for running backs across the nation. Some other big time recruits who had good careers this year include Jahvid Best, John Clay, Chris Rainey, Shane Vereen and Noel Devine. Some flops include Enrique Davis (Ole Miss) and Lennon Creer (Tennessee – now LA Tech). But this class did see a lot of less heralded recruits have great careers. That list includes Jonathan Dwyer (Georgia Tech), Roy Helu (Nebraska), Ryan Matthews (Fresno St.) and Darren Evans (Virginia Tech).
WR
LSU signed a pair of wide receivers in this class, one of which was ranked five stars by nearly every scouting service. These two guys made a ton of huge plays for LSU's program, but most of them came from the "other" guy.
Terrance Toliver – Toliver was rated as a 5-star player by most of the recruiting services and even tabbed as the nation's #2 receiver by Rivals. With rankings like those, the expectations are that the player becomes dominant and competes for All-America honors. Toliver never quite lived up to that billing, but he did enjoy a successful career at LSU. Toliver showed gradual improvement before having a very good junior season in 2009 where he caught 53 passes and made the All-SEC Second team. He was poised for a very good senior season, but it just did not happen. He caught 41 passes and scored five touchdowns, but it was far less than what everyone hoped. His lack of success was mostly due to ineffective quarterback play, but Toliver also suffered some key drops. Shockingly, he was not drafted by the NFL.
Demetrius Byrd – Byrd was signed out of junior college, in hopes that he could have an immediate impact on LSU's team. That's exactly what he did. Byrd provided a deep threat to LSU's 2007 team and made a ton of big plays at key moments. The 4th quarter, 4th down touchdown against Florida. The game winning touchdown against Auburn with just seconds left. A long touchdown against Alabama. A touchdown against Tennessee in the SEC Championship Game. As a senior, Byrd was not quite as effective, but that was mostly due to the unsettled quarterback situation. He still caught a key touchdown in LSU's come from behind win at Auburn and another in a near win over top ranked Alabama.
Missed On – Nobody. Louisiana did not have much to offer so LSU went out of state to get two highly regarded players, both of which had positive impacts on the program.
Nationally – Dez Bryant and Arrelious Benn both panned out and became outstanding college players. Both are contributors in the NFL now. A ton of guys in this class were highly rated but turned out just OK. There were some lower ranked guys who turned into steals though, most notably Leonard Hankerson (Miami), Titus Young (Boise State), Austin Pettis (Boise State), Junior Hemmingway (Michigan), and Derek Moye (Penn State). Moye caught a touchdown against LSU in the Capital One Bowl following the 2009 season.
TE
Mitch Joseph – Joseph came to LSU as a 3-star prospect from in-state. While not flashy, he has been a regular contributor to LSU's offense for three seasons, primarly playing the role of the blocking tight-end. He has done a nice job for the Tigers, especially in the running game.
Jordan Corbin – Corbin came to LSU as an athletic tight-end prospect out of Lakeland, FL that was highly thought of by the recruiting services. Corbin was on the same Lakeland high school team as Chris Rainey, Ahmad Black and the Pouncey twins who all played at Florida. Corbin suffered a serious knee injury in high school and even though he spent a season at LSU, he never fully recovered and ultimately left the team as a result.
Alex Russian – Russian was primarily signed as a deep snapper who would lend depth at tight-end. Russian ended up doing neither during his LSU career. He lost the deep snapper position to walk-on Joey Crappell and did not play much as a tight-end.
Missed On – Nobody
Nationally – At the top of the recruiting lists for tight-end for this class, two names really junp out: Aaron Hernandez and Rob Gronkowski. Both are now doing great things together for the New England Patriots. D.J. Williams from Arkansas also stands out as a highly rated guy that had a tremendous college career.
OL
The offensive line class from the Class of 2006 turned out to be atrocious. So as a program, LSU really needed the 2007 class to pan out. And it did…sort of. A couple of defensive linemen switched over to the O-line and ended up doing great things. I'll list the guys that eventually played offensive line, rather than list them at the position where they were signed.
Joseph Barksdale – Barksdale was signed as a defensive tackle out of Detroit. He enrolled at LSU early and went through spring practice as a defensive tackle before making the move to the offensive side of the ball. He contributed some as a freshman before taking over the right tackle position as a sophomore and junior. As a senior, he moved to the left side. Barksdale was always steady and proved to be one of the anchors of the line. He earned some post-season honors as a senior before being drafted in the third round by the Oakland Raiders.
Will Blackwell – After spending his redshirt season on the defensive side of the ball, Blackwell moved to offense. He emerged as a starter at right guard during his junior season but injured his foot on the very first play of the season. Blackwell would return late in that season and was dominant in LSU's Cotton Bowl victory over Texas A&M. That performance set the stage for his senior season, where has been a key part of one of LSU's best lines in recent memory. He has been placed on several All-SEC and All-America teams.
T-Bob Hebert – Hebert came to LSU as one of the nation's top center prospects. As a sophomore, Hebert took over the starting center position, but he really struggled. He was replaced in the bowl game by P.J. Lonergan. As a junior, Hebert stepped up when Will Blackwell went down to an injury and played guard for most of the season. As a senior, Hebert again plugged holes when others were out with injury and has been in and out of the starting lineup. So while he did not compete for the Rimington Award, or anything close to it, Hebert has been an extremely valuable Tiger who brought a ton of smarts and experience to any spot on the interior line.
Josh Dworacyzk – Dworacyk is the one guy on this entire list that may play next year. He took over the left guard position as a sophomore in 2009 and was frequently lauded by LSU's coache as one of the Tigers' best offensive linemen. He was set to be a three year starter until an injury sidelined him for the 2011 season. It's possible that Dworacyzk could return for a rare sixth year of eligibility in 2012.
Ernest McCoy – McCoy was a four star prospect out of Florida and was believed to be a great sign by LSU. He redshirted in 2007 and played as a reserve in 2008. Most assumed he would eventually be in the mix for playing time, but he transferred after the 2008 season to Texas Southern in search of more playing time.
Jarvis Jones – Jones was a highly thought of player from Texas who played quite a bit as a true freshman in 2007. And boy did he look good. Most envisioned future bookend tackles in Barksdale and Jones for LSU. But Jones was dismissed from LSU's team after the 2007 season for a violation of team rules. He transferred to Oklahoma and started at right tackle in 2009, earning All Big-12 honorable mention honors. He was a part time starter again in 2010 before an injury sidelined him for the 2011 season.
Missed On – It's tough to say LSU missed on anyone. They signed the guys they wanted from in-state and supplemented that from out of state players such as McCoy, Jones, and ultimately Barksdale. A couple of other Louisiana players signed with BCS schools such as Alex Williams (Oklahoma) and Rishaw Johnson (Ole Miss), but neither had the type of career that would cause LSU any regrets.
Nationally – As usual, a number of the high profile recruits turned into great players. They include the Pouncey twins at Florida, Anthony Davis at Rutgers, Bryan Bulaga at Iowa, and Derek Sherod at Mississippi State. One interesting name listed as a three star offensive guard is Nick Fairley.
DE
LSU signed just a pair of defensive ends in this class and neither played a single significant snap of football for the Tigers. After not signing any in the Class of 2006, this definitely created a hole on LSU's depth chart. That's why we saw a guy like Pep Levingston, who was really a tackle, start on the outside in 2009. And why it's why an undisciplined guy like Rahim Alem also started in 2009.
Kentravis Aubrey – Aubrey signed as a big defensive end out of Bastrop, but most considered him a candidate to eventually move inside and play tackle or to move over to the offensive side of the ball. He left LSU's program after dealing with nagging injuries after the 2008 season.
Sidell Corley – Corley was a huge recruiting coup for Les Miles late in the recruiting cycle. A highly sought after prospect from Mobile, Corley was a commitment to Florida for much of the year. After a change of heart, he opened things back up and LSU won the recruiting battle over Alabama. Corley redshirted, then was way down the depth chart in 2008, playing only in mop-up duty. He transferred to Troy where he played some. He eventually had to quit football due to medical concerns.
Missed On – Frank Alexander. Alexander was a defensive end prospect from Southern Lab in Baton Rouge. LSU decided to pass on him, but he has enjoyed a standout career at Oklahoma. As a senior, Alexander has recorded 8.5 sacks and 18 tackles for loss. That follows his junior season where he recorded seven sacks and 13 tackles for loss. I'd also say that LSU missed on Jason Peters, also from Baton Rouge. Peters signed with Georgia Tech and has been a contributor to their defense for multiple seasons. Considering the lack of anyone signed in 2006 and 2007, Alexander and Peters would have played significant minutes for LSU, especially Alexander.
Nationally – Some big-time national guys such as Florida's Carlos Dunlap, Texas A&M's Von Miller, Ohio State's Cameron Heyward and Georgia Tech's Derrick Morgan panned out. This class had some big busts too, including Sidell Corley and Ben Martin (Tennessee). It also had some great stealls such as Jake Beguette (Arkansas) and Ryan Kerrigan (Purdue).
Lastly, it's tough to mention defensive ends in the Class of 2007 without mentioning Luther Davis. Davis probably had the biggest ratio of recruiting drama to actual on-field production in history.
DT
LSU signed a number of guys they thought could contribute at defensive tackle. The aforementioned Joseph Barksdale and Will Blackwell were a couple. Many also thought that Kentravis Aubrey would ultimately end up at tackle. But once the dust settled, only one guy played there, and he was a damn good one.
Drake Nevis – The potential of Nevis was evident very early in his career. He played sparingly in 2007 and 2008 but made plays when given the opportunity. In 2009, he led the team in tackles for loss, despite not being a regular starter. As a senior, he really blew up and he led the team in tackles for loss again while being a key team leader. Nevis was 1st team All-SEC and was selected in the third round by the Colts.
Missed On – Nobody. LSU had a great haul at the position, even though some guys ended up contributing at other positions.
Nationally – By and large, this was a weak year nationally for defensive tackles. North Carolina's Marvin Austin was a very good player, but he also did his part in getting the Tar Heel program in some trouble. You did have some lower ranked guys turn into stars such as Jared Crick (Nebraska), Melvin Ingram (South Carolina) and Devon Still (Penn State).
LB
LSU did not sign any "true" linebackers in this class, but they did not necessarily need to since they signed four in 2006. However, a pair of defensive backs ultimately played linebacker for LSU.
Stefoin Francois – Francois was signed as a safety but played sparingly before suffering an injury. Once he returned, the staff moved him down to linebacker to try and re-create the play making ability they had found with another converted safety in Harry Coleman. It didn't quite work out as good as it did with Coleman. Francois was technically a "starter" for two seasons, but LSU played so much nickel and dime that he really did not see the field a ton. He has just 11 tackles in 2011.
Shomari Clemons – After a redshirt and a season as a reserve, Clemons transferred out of LSU's program before making much of an impact. He had a bright future, but an arrest for shoving a police officer earned him a spot in the doghouse. Rather than battle his way back in good favor with the coaching staff, Clemons left LSU's program.
Missed On – LSU passed on Southern Lab prospect Earl Patin, who enjoyed a nice career at Baylor. Patin was not a guy that would have made a huge impact at LSU, but he could have been a contributor as an upperclassman.
Nationally – Most of the top guys nationally turned out well, and there are not many sleepers to speak of. This class produced Rolando McClain (Alabama), Chris Galippo (USC), Travis Lewis (Oklahoma), and Akeem Ayers (UCLA). One notable sleeper is Michigan State's Greg Jones.
CB
LSU signed four guys in this class that ultimately played cornerback, and only one finished his career as a Tiger. But he has been a damn good player.
Ron Brooks – Despite not ever being a regular starter, Ron Brooks has been one of those guys that always made positive things happen when he was on the field. He was a huge special teams contributor and solid backup for two years before moving into his role as LSU's dime back in 2010 and 2011, where he really excelled. During those two seasons, Brooks has logged 5.5 sacks and 12.5 tackles for loss to go along with three interceptions, all of which were returned for touchdowns. He has also continued his great work on special teams, both as a gunner and a returner. He has been a huge part of LSU's success on defense in 2010 and 2011.
Phelon Jones – Jones was another big steal out of the state of Alabama. However, he never quite lived up to his recruiting accolades. Once it became apparent that Jones would never be a major contributor, he decided to transfer. He transferred to Alabama where he never made too much of an impact.
John Williams – Williams was a good looking athlete out of Breaux Bridge that a lot of people were excited about. But it just didn't work out for him at the next level. He was a good overall athlete, but it did not seem to translate to the football field. He was tried at both wide receiver and cornerback, but nothing seemed to stick. He eventually left LSU's program prior to the 2010 season.
Delvin Breaux – Breaux committed to LSU prior to his senior season but suffered a pretty serious neck injury during his senior year. He was not cleared to play football again after that injury, but he still attended LSU, who honored his scholarship.
Missed On – Nobody. LSU got two big out of state fish with Brooks and Jones and had the best that the state of Louisiana had to offer.
Nationally – By and large, this wasn't a great class. A number of the top rated guys did not live up to their billing. One notable exception is Florida's Joe Haden. A good steal could be South Carolina's Antonio Allen, who just enjoyed a great senior season.
S
LSU signed just one guy who ultimately played safety, but he was a very special player.
Chad Jones – Jones made a huge impact in his very first season. Who can forget his two big sacks against Alabama in Tuscaloosa, including one that set up the game winning touchdown? Jones just continued to get better and had really developed into an outstanding all around safety in 2009. He left school early for the NFL Draft but his pro career probably ended before it got started due to a bad auto accident. Jones was also a standout for the baseball team, playing a huge role down the stretch during LSU's 2009 championship season.
Missed On – LSU was very happy with their haul, landing two big-time players in Jones and Francois. LSU gave Texas a serious run for Christian Scott, but Scott ultimately chose the home team and had a good career for the Horns. The very top of the rankings this year had Eric Berry (Tennessee) and Major Wright (Florida) to go along with Chad Jones. All three guys turned into great college players. Berry was out of this world.
Special Teams
LSU signed a pair of place kickers in the same class, which was a little unusual but it provided good competition. One turned out to be one of the best kickers in LSU history.
Josh Jasper – Jasper emerged as the better option between him and Andrew Crutchfield. Jasper dabbled as a kickoff only guy until Colt David graduated. Jasper then took over the full-time kicking duties, and he was outstanding. He finished his career, making 45 of 54 field goals (83%), including 16 of 23 over 40 yards (70%). And who could forget Jasper's execution of the fake field goal in the Swamp in 2010?
Andrew Crutchfield – Crutchfield was never LSU's full time kicker, but he did perform kickoff duties for a bit and do so well. It became apparent that Jasper was ahead of him and in line to do the kicking for LSU, so Crutchfield left to pursue his career elsewhere.
No class sees every player contribute to the program. It just does not happen. Most classes are considered a success if half of the players make significant contributions. Here is a quick look at how the class panned out. Don't get too caught up in what category I put each guy in. It's just my opinion.
BIG TIME PLAYERS (10)
Steven Ridley – NFL Draft pick
Terrance Toliver
Demetrius Byrd – NFL Draft pick
Will Blackwell
Josh Dworacyk
Joseph Barksdale – NFL Draft pick
Drake Nevis – NFL Draft pick
Ron Brooks
Josh Jasper
Chad Jones – NFL Draft pick
SOLID CONTRIBUTORS (4)
Jarrett Lee
Mitch Joseph
T-Bob Hebert
Stefoin Francois

MISSES (11)
Jordan Corbin
Alex Russian
Ernest McCoy
Jarvis Jones
Kentravis Aubrey
Sidell Corley
Shomari Clemons
Phelon Jones
John Williams
Andrew Crutchfield
Delvin Breaux (injury)
So LSU got solid contributions from just over half the class, which is solid. Five players have been drafted by the NFL so far with a few more having a chance to get selected in April. While nobody in this class developed into an All-American, most of the guys that were supposed to be really good ended up being really good. Guys like Nevis, Ridley, Barksdale, Toliver, Blackwell, etc were all in that All-SEC conversation when they were uppserclassmen. Sure the class had its share of flops but all in all, this class met expectations, which were rather high. It did not exceed them. This won't go down as one of LSU's best classes ever. But it was a class that can compete for a championship, and we've seen that on the field in 2010 and 2011.