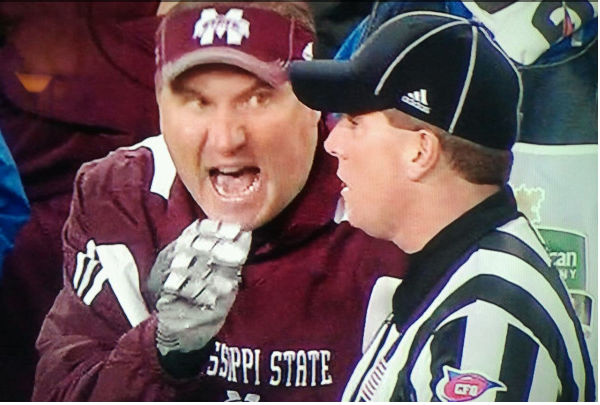 The 2011 SEC bowl season is off to a good start following Mississippi State defeating the Wake Forest Demon Deacons in the Franklin American Mortgage Music City Bowl in Nashville, TN 23-17.
The win wasn't pretty by any stretch of the imagination, hell, it was downright subprime during the 1st quarter.
The Mississippi State offense was an insult to rust in that quarter but eventually found its rhythm and began moving the ball to a degree against Wake Forest. It was either that or Dan Mullen used the force at half-time to choke some 4th stringer to death with the storm trooper / Nintendo power gloves he was wearing.
The Bulldogs pulled through with the help of their fans furiously ringing those God awful cowbells that Music City bowl officials let MSU fans bring to the stadium.
Even future SEC member Missouri showed off what they could do by battering UNC in the Independence Bowl in Shreveport, LA by a 41-24 final score.
LSU showed how classy it can be when they took out a full page ad in the Shreveport Times welcoming Missouri to the SEC and wishing them good luck in the Independence Bowl.
Two SEC teams (Auburn, Vanderbilt) and one future member (Texas A&M) are in action today (New Year's Eve).
In the first of the New Year's Eve slate of games is Texas A&M tangling with the Northwestern Wildcats in the Meineke Car Care Bowl of Texas. Following that there is the surprising Vanderbilt Commodores and head coach James Franklin bringing his swag down to Memphis to the Liberty Bowl versus the Cincinnati Bearcats.
In the night-cap, Auburn fights for all the chicken sandwiches in the Chic-Fil-A Bowl against the Virginia Cavaliers.
There's a break in action before January 2nd sees Florida battle the team that hired their former coach in Ohio State in the Taxslayer.com Gator Bowl, SEC runner-up Georgia take on the Big Ten runner-up Michigan State in the Outback Bowl (for all the bloomin' onions!), and South Carolina collides with Nebraska in the Capitol One Bowl.
Following those games on January 6th will see Arkansas travel to Jerry World to take on Purple Kansas (Kansas St) in the Cotton Bowl. Here's hoping Bobby Petrino gives Bill Snyder a better post-game hand-shake than he did Les Miles.
Finally it's the re-match of the millennium when LSU and Alabama face off again but this time in a winner-take-all showdown in the Mercedes-Benz Superdome in the BCS national championship.
Here's hoping that Mississippi State and Missouri was a sign of things to come for the remaining SEC teams yet to play.