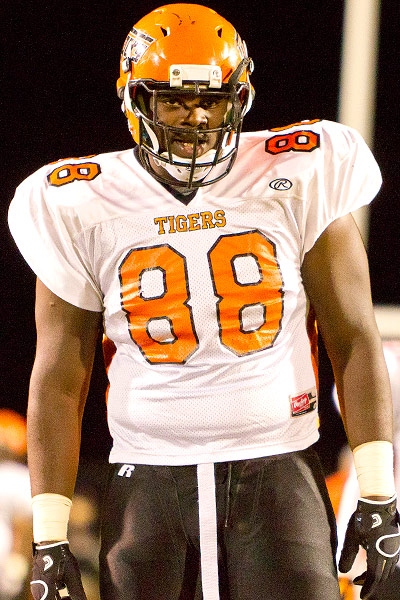 DT Greg Gilmore
LSU's run as one of the top producers of NFL defensive linemen does not appear to be slowing down anytime soon. ESPN's Mel Kiper recenty released his "Big Board" for the 2013 draft and he has Barkevious Mingo as the #3 overall NFL prospect in the nation with Sam Montgomery not far behind at #5. Kiper also has defensive tackle Bennie Logan on his "Just Missed" list. This comes on the heels of guys like Glenn Dorsey, Tyson Jackson and most recently Michael Brockers as recent first rounders. Other recent draft picks include Drake Nevis (3rd round, 2011), Pep Levingston (7th round, 2011), Al Woods (4th round, 2010) and Ricky Jean-Francois (7th round, 2009).
With so many expected high draft picks next April, LSU will be looking to reload. When you factor in that LSU took just one defensive lineman in last year's recruiting class (defensive end Danielle Hunter), the need to restock with high quality players is at an all-time high. Thus, the opportunity for those players to contribute very early in their careers is very present.
The state of Louisiana has been very good to LSU in terms of producing big-time defensive linemen, and the Class of 2013 is no different. The state has an elite defensive end in Tim Williams and two very solid guys with loads of potential in defensive tackle Tevin Lawson and defensive end Michael Patterson. Both Lawson and Patterson are LSU commitments.
But with LSU looking to sign as many as six defensive linemen in this class, they have looked to an unfamiliar place to help restock the cupboard…..North Carolina. Other defensive line prospects from the East Coast have enjoyed a lot of success at LSU recently. Most notably, Sam Montgomery from South Carolina is poised for another All-American season. You've also got defensive tackle Ego Ferguson from Maryland who seems ready to breakout in 2012.
LSU has offered three linemen from the state of North Carolina and all seem to be heavily considering the Tigers.
Defensive tackle Greg Gilmore is a nationally ranked prospect by just about every scouting service. LSU is recruiting him very hard, and he has consistently named LSU as his leader. Things change quickly in recruiting but at this point, I'd be pretty surprised if Gilmore did not pick LSU. He's exactly the kind of defensive tackle that has flourished in LSU's system. He's got good quickness and a good frame at 6'4″ 275 with room to add good weight in LSU's strength and conditioning program. Gilmore is also considering Florida, USC, and Ole Miss.
LSU recently offered defensive end Lewis Neal, a former commitment to Ohio State. Neal seems pretty high on the Tigers and hopes to visit Baton Rouge sometime this summer. He's a bit on the smaller side at 6'2″ 235 pounds, but he has very long arms that should let him play a little bigger than he is. He reminds me a bit of current Tiger Jemauria Rasco, and he's not all that dissimilar from Class of 2013 prospect Kendell Beckwith. If Neal's size prevents him from being an every down player, he can certainly flourish as a situational pass rusher. In a similar role, Barkevious Mingo has racked up 10.5 sacks and 20.5 tackles for loss over the last two seasons. So there is certainly a place for someone like Neal in LSU's defense. Some schools are recruiting Neal as an outside linebacker but LSU likes him as a pass rusher which seems to appeal to Neal. In addition to LSU, Neal has offers from Ohio State, Clemson, North Carolina, South Carolina and Tennessee. Here are some highlights of Neal:
Lastly, defensive end Tyquan Lewis is another speedy end that the Tigers are chasing. Lewis is 6'3″ 220 and is exactly the kind of quick, speedy defensive end that LSU likes to utilize. Lewis is not all that highly thought of by the scouting services, earning a three star rating across the board. But his offer list suggests that he is perhaps underrated and that his ranking could get a bump sometime soon. Auburn, North Carolina, South Carolina and Virginia Tech are just some of the schools to offer Lewis thus far…in addition to LSU.
Both Neal and Lewis attended a recent Nike camp event in Charlotte, and both were among the top performers. Here is some video of some one on ones, per CBS Sports, and you can catch glimpses of both.
So can LSU pull off the trifecta and land all three D-linemen from North Carolina? It's certainly possible. Gilmore seems the most likely at this point since he has already visited and considers LSU his favorite. But Neal seems genuinely interested too and plans to visit this summer. Lewis is more of a question mark but looks like a great fit in LSU's scheme. LSU is also chasing a number of other highly recruited defensive ends such as Tim Williams, Torrodney Prevot (Texas), and Frank Herron (Tennessee). But it's clear that the staff considers Neal and Lewis in that same category since both are included in an exclusive group of defensive linemen that hold offers from LSU.