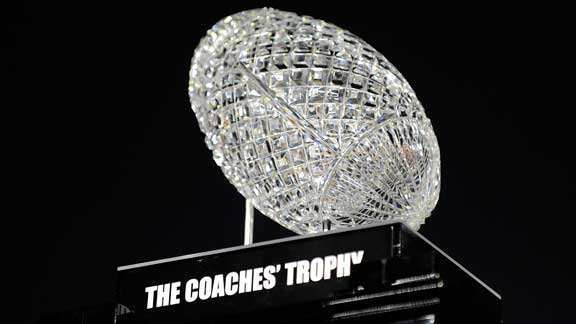 Last week, the BCS conference commissioners met in Chicago to further discuss ideas for a college football playoff. The group apparently reached an agreement for a basic structure of how college football's postseason should operate. The proposal will now go to the presidential oversight committee, which consists of one president from each of the FBS conferences along with Notre Dame, who must unanimously approve the model. They will discuss several models but with the full backing of the commissioners for a four-team model, it is expected that the presidents will approve.
We're on the brink of finally having a playoff in college football. But what exactly will we have? Nobody knows for certain, but several things have leaked out.
How will the teams be chosen?
It appears that we'll have a selection committee that chooses the four teams, with special preference given to conference champions. Who will be on this selection committee? Your guess is as good as mine.
How will the structure of the playoff be organized?
The teams will play the semi-final games at current BCS Bowl sites (Sugar, Rose, Fiesta, Orange) with the Championship Game bid out to cities, similar to how the Super Bowl operates. The bowls will rotate years that they host a semi-final game. Andy Staples of Sports Illustrated reports that the Chick-Fil-A and Cotton Bowl may also be included as host sites for semi-final games.
When will the games be played?
It seems that New Year's Day and New Year's Eve, or both, are the likely dates for the semi-final games. One commissioner was quoted as saying they intend to "take back New Year's Day for college football". So one can only assume the Championship Game will be played approximately one to two weeks later.
While I'm thrilled about this finally happening, I would have done things a little differently.
To start, I was a HUGE proponent of playing the semi-final games on campus. I think it's a tremendous reward for the top two teams to host those games, and the atmosphere would be electric. It would showcase the true essence of college football (i.e. being on campus, tailgating, etc) as opposed to playing the games in a NFL stadium in a bowl environment in a stadium that may not even be full. If you think I'm crazy by suggesting that these stadiums won't be full, have you seen attendance for BCS bowl games recently? Sure, the seats may have been sold, but the actual attendance has been awful. "But this is different. It's a playoff!" Very true. But as a fan, will you travel to say, the Orange Bowl for a semi-final game and then to Dallas, TX for the national championship? Many will. But a lot of fans can't do both. And I suspect many will catch the semi-final game on television with the thought that they'll travel to the Championship Game if their team makes it.
Another argument to not play these games on campus was that some college towns and stadiums would not be able to handle such an event. What if Boise State was hosting? You would only be able to sell approximately 40,000 tickets. I would suggest that more times than not, teams like LSU, Texas, Alabama, etc would be hosting and you'd go the other way. You'd sell 90,000 or 100,000 tickets as opposed to the approximately 75,000 that you'll get from the Sugar, Fiesta, or Orange. Silly argument in my opinion. As to small college towns not being able to host an event of this magnitude…..ridiculous. In case people haven't noticed, the SEC takes their football very seriously and every big game is a huge event, with TONS of media on hand. But the folks in Auburn, Tuscaloosa, Knoxville, Athens, etc have seemed to figure things out fairly well. I understand that the Commissioners want to keep the bowl games relevant and I get that, but I think they swung and missed here.
Logically, I believe that only conference champions should be allowed into the playoff. With such a small playoff, it seems like a reasonable requirement that a team win its conference in order to be included. I've never understood how a team could claim to be a national champion if they're not a conference champion first. When discussing a playoff, people seem to get caught up on finding "the four best teams." To me, that's not the point. It's about finding the best team. It's easy to conclude that a single conference may have two or three of the "four best teams" in the nation. But you already know that the teams that are #2 and #3 in the conference are NOT #1. Sure, they may be #2 or #3 nationally. But they're not #1….and that's the point. As a SEC guy, I know I'm supposed to think differently…because the SEC will often get two teams into this tournament and that's good for the league, blah blah. But I just can't get there.
Having said all of that, including only conference champions would seemingly destroy out of conference scheduling. Non-conference games would mean absolutely zero in the grand scheme of things, and I can only assume that programs would take that opportunity to load up on rent-a-wins. Even if a program did choose to challenge themselves and schedule difficult non-conference games, would it matter? The games would essentially not count since you're only chasing a conference championship. That's not good for college football. So for that reason, I think they ultimately got this one correct. All teams are eligible but special preference will be given to conference champions. And to me, a committee is probably the best way to sort all of this out.
Taking my best guess at how a committee may have chosen teams, here is how the past few seasons would have looked under this format:
2011
(1) LSU vs. (4) Oregon
(2) Alabama vs. (3) Oklahoma State
2010
(1) Auburn vs. (4) Wisconsin
(2) Oregon vs. (3) TCU
2009
(1) Alabama vs. (4) TCU
(2) Texas vs. (3 Cincinnati
2008
(1) Florida vs. (4) USC
(2) Oklahoma vs. (3) Alabama
2007
(1) Ohio State vs. (4) Georgia
(2) LSU vs. (3) Oklahoma
What will become of the Sugar Bowl? The SEC and Sugar Bowl have had a great relationship for a very long time. The SEC has nearly always sent their champion, or a replacement team from within the conference, to the Sugar Bowl. But it looks as if the Sugar Bowl is slated to host semi-final playoff games, and they won't have any control over the teams headed their way. Recently, the Sugar has been stuck with teams such as Hawaii (2007), Utah (2008) and Cincinnati (2009). They also had very poor attendance last year in a match up of Michigan against Virginia Tech. So the idea of hosting a pair of Top-5 teams every other year has to appeal to them, even if it means the end of their relationship with the SEC.
At the same time, the SEC and Big-12 recently announced their intentions to match up their champions in a new bowl game. In most years, either the SEC or Big-12 champion, or both, will be in the four team playoff. However, the new bowl will simply select the next best available team from each conference to ensure a great matchup regardless.
With the Sugar and Fiesta out of the picture as hosts for the new "Champions Bowl", the attention turns to Arlington, TX and Jerry's World as the most likely destination. After all, they host the Cotton Bowl which already features a prominent Big-12/SEC match up. Will the two bowls (Cotton and "Champions") essentially become one in the same? Did the announcement of this new bowl essentially just jump the Cotton to the top of the pecking order for both the SEC and the Big-12? I'm starting to think so.
According to this tweet by Kirk Bohls of the Austin American Statesman, interim Big-12 commissioner Chuck Neinas is thinking along the same lines:
Big 12's Neinas explains Champions Bowl "could become Cotton Bowl. We're willing to work w a bowl game and have that game become that game."

— kbohls (@kbohls) June 22, 2012
Here is Bohls' entire article on the subject.
Yet another thing to consider is that Dallas will certainly put in a bid to host the National Championship Game, and they must be considered the leaders to win the initial bid. So would they be interested in hosting both? I'm sure they would. The games would likely be at least a week apart, so it's definitely possible. If the SEC/Big-12 "Champions Bowl" is not in Dallas, where would it go? Would Houston step up to the plate? Atlanta? Nashville? Kansas City? St. Louis? And would the Cotton Bowl remain a match up of SEC and Big-12 teams?
At the end of the day, college football is taking several steps forward with the creation of this four team playoff, assuming it is approved and put into place.