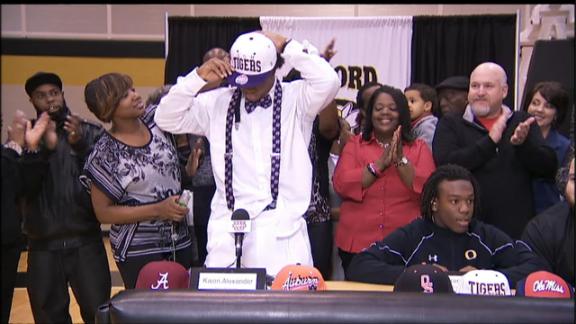 I have created a new position called the Commissioner of College Football, and I just appointed myself as the first one. I have some ideas to improve the sport we all love and I wanted to share them with you.

College football recruiting currently resembles more of a circus than it does prospective student athletes making a decision on where to play college football. But then again, that is nothing new. We've heard stories from the 1980s of Jessie Armstead holding a press conference from a hot tub surrounded by girls. As long as fans are interested in recruiting, which they will be, then you're going to see press conference hat tricks and last minute, signing day switches. While often frustrating, I'm actually OK with that.
Lately, we have seen more of what has been labeled "oversigning". A school can enroll no more than 25 new players each season. However, each team has an overall limit of 85 scholarship players. If a school signs 25 players in each class, then they'll have a total of 100. The math does not work, but that is by design. Players transfer, get hurt, quit, leave for the NFL or run into academic trouble. They leave the football program for a variety of reasons. It happens. The 25/85 rule provides an allowance for that. But going even one step further, a player is allowed to play four seasons but can be on scholarship for five. A player can "redshirt", which means they can be a scholarship football player in a year when they do not play. Thus, they can save a year of eligibility. In regards to scholarship numbers, that means five different signing classes make up a team's 85 man roster limit.
Even if a school has just 15 open spots under the 85 man limit, a coach will often still sign 25 new players. What happens to the overage of 10 players? You will see some natural attrition on the team due to the reasons listed above. But often, the numbers do not always work themselves out. In those cases, the coach will cut or "run off" the additional players who have the least chance of ever contributing. This practice allows a school to sign more players than they otherwise could. With the inexact science of player evaluation, the thought is to sign as many players as possible. If you sign enough players, you'll eventually find a few that can play at a high level. Obviously, many have labeled this practice as unethical. However, I believe that the process of "cutting" players is almost always a lot more mutual than some will have you believe.
The Big-10 conference has rules in place that only allow a school to "oversign" by three players. And Big-10 fans will tell you that the recent run of success in the SEC is solely due to oversigning. While that's completely ridiculous, this practice is quite prevalent within the SEC (including at LSU), and it is tough to argue that it does not provide an advantage.
Why do coaches oversign? Because they are motivated to do so. Under the current system, coaches can achieve an advantage by signing as many players as possible. Coaches will always be under enormous pressure to win. That won't change. But what can change is the system they operate under. Here are a few suggestions:
1) Allow players five years of eligibility on the field instead of four. This would eliminate "redshirts" and would allow a player to play five seasons of college football. If a player is on campus, going to class, practicing, lifting weights, etc, they may as well be eligible to play.
2) Mandate that schools can only sign 17 new players each year. This includes high school players, junior college players, incoming transfers, or scholarships awarded to walk-ons. You know what 17 is? It is 85 divided by five. Essentially, the overall roster limit of 85 goes away since it is now mathematically impossible to surpass it.
3) Allow prospects to sign a National Letter of Intent AT ANY TIME after March 15 of their Junior season. If both the prospect and a parent sign the Letter of Intent, then it is binding and their recruitment is over. You can possibly allow a seven day window for them to back out if they simply got caught up in the moment during a visit. Why March 15? It was just a date I picked that seemed to make sense.
3a) If the above simply does not work, then have an early signing day…preferably sometime in August before both the college and high school seasons get started.
4) When a player signs scholarship papers with a university, he signd a five year scholarship with the school which obligates the school to keep him on scholarship for five years, assuming he keeps his academics in order and is not a discipline problem. However, if the player wants to transfer, he must sit out TWO years before able to play again. Currently, a player must sit out one year when they transfer. This may seem harsh, but I have a slight problem with people trashing coaches for not renewing scholarships while players are allowed to transfer at a moment's notice. I believe this commitment should be a two way street.
5) I am not opposed to "grayshirting". If a prospect is willing to wait to enroll as a means to attend the school he wants to attend, then he should be able to do it. However, this would be unofficial and the prospect would not sign a letter of intent.
So what do these suggestions accomplish? Here are my thoughts:
1) Coaches can no longer oversign. It is now impossible. Therefore every school operates on a level playing field in regards to recruiting. Everyone signs 17 each year.
2) Currently, some coaches may be motivated to eliminate some current players from their program in order to make room for new ones . Now, that motivation is totally flipped. More than ever, coaches would want their current players to remain in the program. They will place more emphasis on player development, academics, and off the field behavior than ever before. College football coaches are also less likely to take chances on prospects with academic or off the field concerns. Since they can no longer simply be "replaced" if things do not work out, coaches will simply not take as many risks. I feel that this will trickle down to the high school level and the the prospects, along with their parents and coaches, will be more motivated than ever to square away their academics.
3) With each school signing just 17 every year, talented prospects will be spread out across more schools, and you should see more parity in college football. In theory, this will blur the line between college football super elite and the second level. You would see more upsets and less undefeated seasons.
4) With the ability for prospects to sign early, coaches can narrow their recruiting focus in the fall while the season is underway. In the Class of 2011, LSU had 15 verbal commitments by the end of July. Let's assume that half of those were comfortable enough to go ahead and sign their letter of intent. Therefore, LSU would have seven or eight players already signed before the fall and would only be looking for nine or ten more. Under the current system, others schools can still recruit those verbal commitments, and they absolutely do. Coaching staffs spend countless hours continuing to recruit players, even though they are already committed, just to counter the sales pitches from other staffs. If those players were signed, coaching staffs could concentrate on the players still on the board, and also further concentrate on the players already on the team. It just makes sense for the actual team to get the bulk of the staff's focus between August and December.
Any negatives to these changes? Perhaps. You could lose some of the drama and theatrics that go along with National Signing Day. Since kids can sign at any time, a true "Signing Day" would disappear. The recruiting web sites and ESPN profit off the excitement of that day. I don't really consider this a negative at all, but some would. Then again, if you simply have an early signing day, then the late signing day in February would still have plenty of appeal.
If you only have an early signing day, then you could see a lot MORE drama on the late Signing Day. With each school only signing 17 players, those spots become even more valuable. If prospects choose to wait until Signing Day to announce their decision, which they will undoubtedly do since ESPN will be there to televise it, then schools will have a heck of a time juggling the numbers that day. If a school has seven players signed, ten open spots and eight verbal commitments heading into Signing Day, then they have room for two more. But let's say four players announce for the school on Signing Day…then you'll undoubtedly see some last minute scholarships being pulled, etc. LSU encountered a similar situation in 2010. That is why I favor letting prospects sign whenever they're ready. It just makes sense.
Overall, these changes would positively affect college football in a big way. The players would benefit but so would the entire sport of college football.